This post is from November 2020…
Hi there everyone, a lot has happened in the past couple of weeks… I've started my Trish Burr journal and have made a short video on the process.  It's been quite fun planning this project and getting ready to stitch – and now I am ready!!  I found some awesome fabric for the pages of this journal which I am super excited about!
Planning and Prepping my Trish Burr Journal

Interview with Amina from Stitch Floral is on FibreTalk
Amina has recently done an interview with Gary Parr on FibreTalk. I haven't yet had a chance to listen, but I'm looking forward to it!
https://wetalkfiber.com/2020/09/27/fiber-talk-with-amina-k/?fbclid=IwAR2RfFRLceA5th94V5BUzHFWGkWOdbK4F-nSqrACHWfl7-V94q-8K2ce2d4

Amina has also posted a very nice video tour of one of her embroidery journals – no words – all visual. This is her scrappy journal – she's combined older pieces in some of the layouts. https://youtu.be/Yeh-5ShOIzg

If you are interested, take a look around her Youtube channel – she's got some tutorials that look very good!

Trish Burr stitch along – page 12 – part 3
Trish has posted the next part of the stitch along for page 12 in her journal. This piece is looking fantastic. She has some great tips and her instructions are very good. I've saved the blog post as a word document in our google drive folder.
https://trishburr.com/2020/10/02/stitch-along-part-three/

Inspiration…
Are you into mandalas? Mary Corbett has a new e-book out! Not free, but a very good pattern book if you love mandalas! Explore her e-books -there's lots of great stuff on her site!!
https://shop.needlenthread.com/product/favorite-kaleidoscopes-a-design-book-for-hand-embroidery
If you like free – Mary did a wonderful mandala tutorial using DMC Coloris floss. This tutorial is awesome (as are all of the ones she does) and includes colour and stitch suggestions and links to her stitch instructional videos.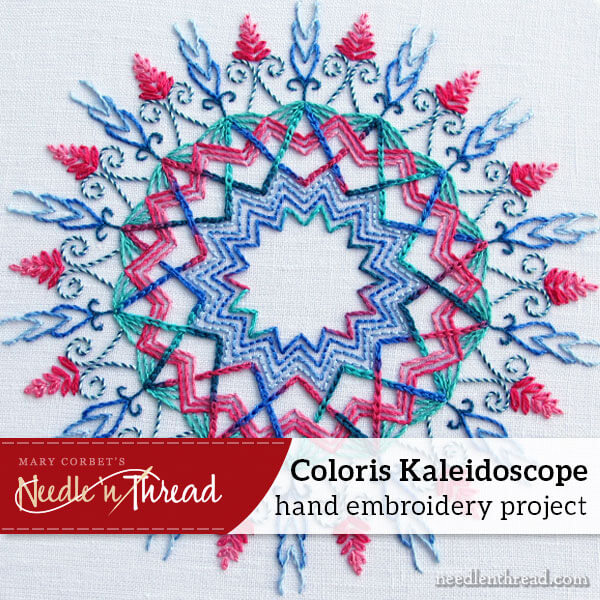 https://shop.needlenthread.com/product/octoberfest-an-embroidered-kaleidoscope?fbclid=IwAR3hL9WBepWsI2yrA6c39dA18QEVZc6SrS2F077dsvmWOHV3AeAlDxC6tV0
Are you feeling a little nerdy and want to add just a touch of fan art to your journal? Look no further! Here's an awesome (and free) Harry Potter hoop art design by Flamingo Toes (I've added the pattern to our pattern/charts to share folder). Look familiar? This is the pattern I used for my HP journal page!
Another tiny bit of geekery – and as nod to our LOTR fans (Lord of the Rings) – Cation Embroidery's blog post on her hoop art design of the Lonely Mountain (my own version of this will more than likely be a journal page for me). I found this cool drawing of the Lonely Mountain map on the web and we will see how it goes.
http://cationdesigns.blogspot.com/2011/12/lonely-mountain-embroidery.html

So many cool ideas!!!
And lastly…. the most perfect quote from Amina from Stitch Floral on one of the reasons she started journalling. Her comment really resonated with me and she's nailed it!!
Happy Stitching!